APS Autumn Activities
Date:   Saturday October 10, 2015
Time:   9:30 AM
Place:  The Botanical Gardens of Asheville
             151 W. T. Weaver Boulevard
             Asheville, NC  28804


Come join your fellow pastelists in the next APS PLEIN AIR EVENT on Saturday, 
October 10 at The Botanical Gardens of Asheville located at 151 W.T. Weaver Boulevard, 
Asheville, NC  28804
 
We will gather in the parking lot at the Visitor Center at 9:30am. 
The Gardens offer many good painting sites and there are comfort 
facilities at the Visitor Center.
 
You can view their website at:  AshevilleBotanicalGardens.org

If you have any questions, please feel free to call Gary Rupp (407)739-8584

November 14, 2015  Member Meeting/Program/Workshop
     …join us from 10am to noon…
Ready, Set, Paint a Portrait!
     …a demonstration in pastels with Suzy Hart, Life Member, ASL of NY

Portraits can be intimidating, but you can set up a good underpainting and make a beautiful study! Suzy will demonstrate from a live model, drawing intuitively to begin, and then checking proportions and angles to ensure strength and energy in the completed work.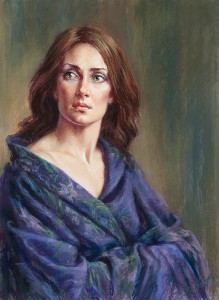 Head anatomy, poetic rendering, skin tones, half tones, chiaroscuro, illusion and depth; these are the foundation of a strong portrait, and learning to identify the subtle tonalities we see in skin and hair will be part of the discussion.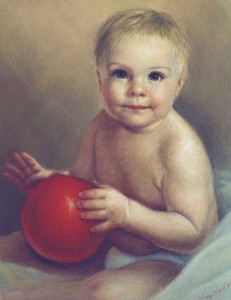 Anatomical and value considerations that affect the youthfulness of a child's portrait will be shared.
Although portraits require patience, Suzy believes that there are tools and skills that can help you along this path.

   …about Suzy
"What I like to teach is the art of seeing…there are so many ways to get to a result, and each is as unique as the artist through whose lens we see a work. I like to empower, as my teachers empowered me."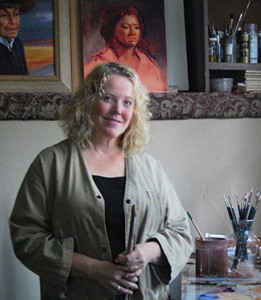 Suzy Hart has a lifetime fascination with the human face and the emotions it reveals. She has received an Award of Excellence in 2007 from the Portrait Society of America's International Competition as well as honor awards in the members' competitions in 2010 and 2014.  She won the Butler Institute of American Art award in the Allied Artists of America Exhibition in 2012. Her work has recently been shown in  the prestigious exhibitions of the International Association of Pastel Societies, the Pastel Society of America and the Catherine Lorillard Wolfe Art Club in NY.  In November 2015 she will be presenting a paper analyzing the works of Max Ginsburg at TRAC2015, the Representational Art Conference, the foremost symposium of philosophers, artists, and curators  engaging with the issue of aesthetics in the 21st Century.
She was born in England, and has lived in NY, NJ, and MT and SC. She makes her home and studio now in the upstate of South Carolina with her husband David Rasberry. She has one grown son, Matthew, who lives in NY. She is a proud past President of the Appalachian Pastel Society.
(Morning Program is FREE and open to the public.)
…and workshop from 1pm to 4pm…
PORTRAIT PAINTING with Suzy Hart

The afternoon workshop will include the topics covered in the morning program, but attendees should bring a some photos to work from. The best photos will have been taken with a strong primary source of light, preferably not sunlit, that allow for identification of the main planes of the face and features. Regardless, if the expression is lovely and inspires you, please bring it and give it a shot!
Landscape and street scene painters are also welcome. These works often include a figure, or farm animals. We will talk about simplifying the shadow structure that makes a convincing figure with minimal detail, but uses accurate value and placement in the visual space.
 Registration required for workshop:
APS Workshop Fee Refund Policy
Our refund policy states that for workshops sponsored by APS, a refund of the fee deposit is available only within 48 hours of paying the fee.  However, if the fee is paid within the last two days before the workshop date, no refund is available.
At the Grace Community Church.  The public and all artists are invited.  There is no fee to attend the morning meeting.
Refreshments will be served. When you come to our meetings, bring a friend!
ADDRESS GRACE COMMUNITY CHURCH
Grace Community Church
495 Cardinal Road
Mills River, NC 28759

DIRECTIONS FROM ASHEVILLE AIRPORT & AG CENTER
I-26, Exit for the airport
–Go West past the airport and past the Ag Center on NC 280
–Go approximately 1 ¾ miles west  towards Mill River
–Turn Right on street between the Land Rover dealer and Grace Church which is Cardinal Drive (the church is up on the hill)
–Turn left at the top of the drive into the church parking lot
–Go to the left side of the building to the green awning entrance
–Go into the hall and go right past several doors
–Our meeting room is to the right.
Please contact Cathyann Burgess, Program chair, with any questions about our program. cathyannburgess@gmail.com … 828.595.9518
Please contact Suzy Hart, Membership chair, with any questions about our membership. appalachianpastelsociety@gmail.com … 845.986.3653
APS Library "Blooms" in 2015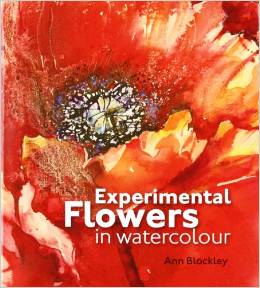 Art books are the doorways to new techniques, color theory, composition, and thoughtful reflection. A recent gift of 103 books and DVDs featuring pastel, watercolor and design were donated to the Appalachian Pastel Society in memory of Mary Ruth Robinson. Her contribution expands the library collection which APS loans to its members during its membership meetings.
An artist and inspiring volunteer, Mary was a longtime member and one of the founding members of the Appalachian Pastel Society. She died on April 29, 2014 after a battle with kidney failure. Mary served on the APS board for many years as newsletter chair and founding librarian. She helped the organization establish its first website. For several years, Mary donated a memorial award to our shows to honor a fellow artist and friend, Ella Maguire. In her will, Mary is leaving $1000 to APS to continue the award to be given with our shows. 
Mary's many gifts have supported, and will continue to support, our growth as artists. 
The expanding library collection is displayed beginning 30 minutes prior to APS membership meetings. A $5 refundable deposit is collected for each book and DVD loaned to members.
For additional information, contact Anne K. Allen, librarian at annekallen@gmail.com.
For more information about the collection, click on the LIBRARY tab at the top of the page.