COMING ACTIVITIES…
---
---
---
---
---
 –
March 10th, 2018 Member Meeting:
–
     …join us from 10am to noon…
–
Diane Pike,  "Seeing and Painting Beyond the Obvious"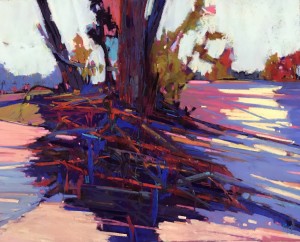 Morning presentation is

free

and open to the public…
   –
Painting is about organizing what we see. Much of what we see is filtered through preconceived notions. Claude Monet said, "To see we must forget the name of the thing we are looking at." This workshop will show you ways to simply see the world in its pure form, just one shape of color next to another.
In the morning I will talk about how I see objects by color and shape as I determine and sketch my composition. I will lay in the first shapes and demo how I begin a painting.
 

–
     …from 1pm to 4pm
–
Workshop:  Diane Pike
–
In the afternoon, we will all paint. Artists should come with several strong photos to paint from. I will help select the best one to use for each artist.
Artists will do 3 or 4 quick sketches and then begin their paintings using the sketches.
I will help each artist individually throughout the afternoon session.
About Diane: 
Diane moved from Boulder, Colorado to North Carolina in December of 2008. She has a BA in Fine Arts from the University of Northern Colorado and was a graphic designer for 10 years in Denver, Colorado.
Whether Diane is looking at pure nature, man's imprint on the land or the aftermath of Mother Nature's impact on the landscape—it comes down to light and color creating shape. Recently her focus has created a marriage between two key areas in her paintings—her passion for color and her love of graphic design.
Diane paints full time and teaches painting classes at Ciel Gallery in Charlotte. Diane also teaches several workshops a year—Texas, New Mexico, Alaska, North Carolina and Ireland have been recent plein air workshop locations.
Signature Member Pastel Society of Colorado
Signature Member Plein Aire Artists of Colorado
Member Piedmont Pastel Society of North Carolina
…for more information about Diane, please visit her website, https://dianepike.com/
Workshop participants are encouraged to register early to save a place…register below…
APS Workshop Fee Refund Policy
Our refund policy states that for workshops sponsored by APS, a refund of the fee deposit is available only within 48 hours of paying the fee.  However, if the fee is paid within the last two days before the workshop date, no refund is available.
–
Diane's workshop is
FULL

…to have your name placed on a waiting list, please contact Program Chair, Karen Chambers… karenpaints@hotmail.com  828.691.7181

–
At the Grace Community Church.  The public and all artists are invited.
Refreshments will be served. When you come to our meetings, bring a friend!
ADDRESS GRACE COMMUNITY CHURCH
Grace Community Church
495 Cardinal Road
Mills River, NC 28759
DIRECTIONS FROM ASHEVILLE AIRPORT & AG CENTER
I-26, Exit for the airport
–Go West past the airport and past the Ag Center on NC 280
–Go approximately 1 ¾ miles west  towards Mill River
–Turn Right on street between the Land Rover dealer and Grace Church which is Cardinal Drive (the church is up on the hill)
–Turn left at the top of the drive into the church parking lot
–Go to the left side of the building to the green awning entrance
–Go into the hall and go right past several doors
–Our meeting room is to the right.
Please contact Karen Chambers, Program chair, with any questions about our program. karenpaints@hotmail.com … 828.691.7181
Please contact Bobbie Kelsten, Membership chair, with any questions about our membership. bobolinkko@gmail.com … 828.274.3578
---
---
---

---
---
---
–
APS 2018 JURIED MEMBER EXHIBITION

:
     August 26 – October 1
Grace Centre Gallery, Mills River, NC  …   Juror:  Luana Luconi Winner
          

Online Entries will OPEN (here):  4/2/18  
Deadline:  7/1/18
Entries are not open yet…but the prospectus is available…
+ + + + + + + + + + + + + + + + + + + + + + + + + + + + + + + + + + + + + + + + + + + + + + + + + + + + + + + + + + + + + + + +
LDCC* with Luana Luconi Winner
*(Line, Design, Color and Composition)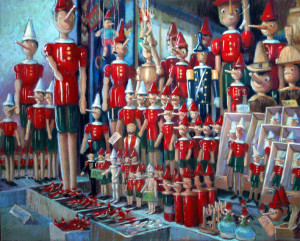 WORKSHOP Opportunity to Learn from a Master!
Learn or refresh your knowledge of Critical Elements of Art
2-day Workshop for ALL LEVELS
August 23 – 24, 2018  …  Hendersonville, NC
Registration is NOW OPEN!

"Children of Collodi-Gathering"  by Luana Luconi Winner



Please read Registration information first and fill out online form (link above) BEFORE paying…(payment signifies you have read and agree to registration rules)
–
---
---
---
–
April 14th

..APS Plein Air Meet at Beaver Lake
.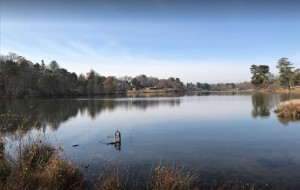 …Starting time, 9 am
     Interested artists to meet at Beaver Lake in north Asheville, on Merrimon Ave.  There are three areas to park.  One is where the boats are, one is south  at the bird sanctuary, and one is north of the boats.
     Bring your lunch if you wish.
     Bathrooms available at library, within walking distance, south of the lake.
     Anyone new to plein air painting can see how to set up and paint…and hopefully will join in.  You are welcome to stay as long as you like.
     If anyone is interested in giving a demo, or needs more information, contact Nancy Clausen   nancy@clauseninstrument.com.
–
---
---
---
–
APS 2017 National Juried Exhibition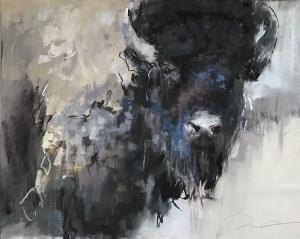 .
.
At left is Dawn Emerson's second painting from her thrilling demo the morning of the Show Opening.
22 inches high x 30 inches wide
It is available for only $1000!  Please contact Dawn directly if you are interested.  dawnemersonart@gmail.com
.
.
   Exhibition was at the Burke Arts Council
.
Jailhouse Gallery
.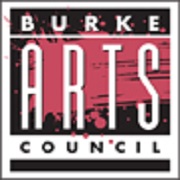 in Morganton, NC 
.
–
.
2017 APS National Exhibition Award Recipients
Best in Show                         Tracy Ference – This is Marshall
First Place                              Diane Pike – Total Chaos
Second Place                         Marilyn Dwyer – Erin's Porch
Exceptional Merit #1             Suzy Hart – Within Mother Emanuel
Exceptional Merit #2             Gary Rupp – Peace Like a River
Exceptional Merit #3             Alec Hall – Pulling Hard II
Honorable Mention #1          Linda Medders-Jackson – Winning Charms
Honorable Mention #2          Kay Gordon – In Cottonwood Shadows
Honorable Mention #3          Cheryl Powell – Judith Baking
Honorable Mention #4          Zoe Schumaker – Barnyard Strut
Honorable Mention #5          Pam Winkler – Unattached
---
---
---
APS Library "Blooms" in 2015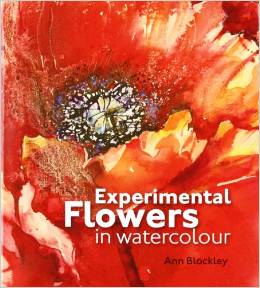 Art books are the doorways to new techniques, color theory, composition, and thoughtful reflection. A recent gift of 103 books and DVDs featuring pastel, watercolor and design were donated to the Appalachian Pastel Society in memory of Mary Ruth Robinson. Her contribution expands the library collection which APS loans to its members during its membership meetings.
An artist and inspiring volunteer, Mary was a longtime member and one of the founding members of the Appalachian Pastel Society. She died on April 29, 2014 after a battle with kidney failure. Mary served on the APS board for many years as newsletter chair and founding librarian. She helped the organization establish its first website. For several years, Mary donated a memorial award to our shows to honor a fellow artist and friend, Ella Maguire. In her will, Mary is leaving $1000 to APS to continue the award to be given with our shows. 
Mary's many gifts have supported, and will continue to support, our growth as artists. 
The expanding library collection is displayed beginning 30 minutes prior to APS membership meetings. A $5 refundable deposit is collected for each book and DVD loaned to members.
For additional information, contact Anne K. Allen, librarian at annekallen@gmail.com.
For more information about the collection, click on the LIBRARY tab at the top of the page.