September 12, 2015 Member Meeting/Program/Workshop
September 12, 2015  Member Meeting/Program/Workshop
…join us from 10am to noon…
ABSTRACT PAINTING – What is it all about?

  with… Fleta Monaghan, BFA, MaEd

Often we hear comments such as, "My kid could paint that!" when those unfamiliar with abstract art see work in museums or galleries.  So, what is it all about?  This discussion will touch on the development of the abstract genre since the 19th century and what is happening today.  Why is All art abstract, and what does abstraction have in common with more understood subjects such as landscapes and portraiture.  How can realist artist benefit from understanding the foundations of abstractions.  This talk will include a slide presentation and question and answer time.

"no-place-to-hide"
by Fleta Monaghan  
Fleta is Founder and Director of River's Edge Studio and 310 Art  Gallery.  This venue was founded in  2006, and is the oldest in the River Art District.  She has exhibited extensively and her art work is in collections worldwide.
Click here to READ MORE information about Fleta.
(MORNING PROGRAM IS FREE AND OPEN TO THE PUBLIC)
…and workshop from 1pm to 4pm…
Breathing Life into a Flower Portrait

"Resplendent" by Susan Sinyai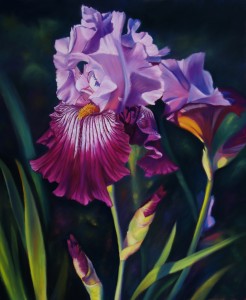 featuring Susan Sinyai, BFA, APS Participating member.
In this workshop I will explore ways to help your flower portrait perk up, come to life, and be successful from the ground up.  This will include the essential element of a strong, well thought-out composition.  I will also talk about the importance of a good photograph, if that is the resource from which the painting evolves.  Techniques and materials used in creating the important underpainting will be  discussed and illustrated, and then the journey towards creating a sense of luminosity.  The purpose of the workshop is not so much to complete a beautiful painting, but more about planning, and beginning, so as to avoid problems later in the painting process. There will be a demonstration, and then we will begin painting, with options to work from life, or from a photograph.  Participants may bring their own photographs or flowers if they wish, but photographs will also be available.  I will be focusing on close-up and personal views of the flower, rather than the flower in a still life composition.
Click here to READ MORE about Susan Sinyai.
Registration required for workshop:
APS Workshop Fee Refund Policy
Our refund policy states that for workshops sponsored by APS, a refund of the fee deposit is available only within 48 hours of paying the fee.  However, if the fee is paid within the last two days before the workshop date, no refund is available.
At the Grace Community Church.  The public and all artists are invited.  There is no fee to attend the morning meeting.
Refreshments will be served. When you come to our meetings, bring a friend!
ADDRESS GRACE COMMUNITY CHURCH
Grace Community Church
495 Cardinal Road
Mills River, NC 28759

DIRECTIONS FROM ASHEVILLE AIRPORT & AG CENTER
I-26, Exit for the airport
–Go West past the airport and past the Ag Center on NC 280
–Go approximately 1 ¾ miles west  towards Mill River
–Turn Right on street between the Land Rover dealer and Grace Church which is Cardinal Drive (the church is up on the hill)
–Turn left at the top of the drive into the church parking lot
–Go to the left side of the building to the green awning entrance
–Go into the hall and go right past several doors
–Our meeting room is to the right.
Please contact Kitty Williams, Program chair, with any questions about our program. bk@btes.tv … 423.764.2911
Please contact Suzy Hart, Membership chair, with any questions about our membership. appalachianpastelsociety@gmail.com … 845.986.3653
APS Library "Blooms" in 2015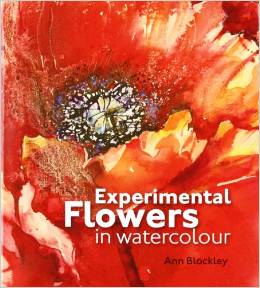 Art books are the doorways to new techniques, color theory, composition, and thoughtful reflection. A recent gift of 103 books and DVDs featuring pastel, watercolor and design were donated to the Appalachian Pastel Society in memory of Mary Ruth Robinson. Her contribution expands the library collection which APS loans to its members during its membership meetings.
An artist and inspiring volunteer, Mary was a longtime member and one of the founding members of the Appalachian Pastel Society. She died on April 29, 2014 after a battle with kidney failure. Mary served on the APS board for many years as newsletter chair and founding librarian. She helped the organization establish its first website. For several years, Mary donated a memorial award to our shows to honor a fellow artist and friend, Ella Maguire. In her will, Mary is leaving $1000 to APS to continue the award to be given with our shows. 
Mary's many gifts have supported, and will continue to support, our growth as artists. 
The expanding library collection is displayed beginning 30 minutes prior to APS membership meetings. A $5 refundable deposit is collected for each book and DVD loaned to members.
For additional information, contact Anne K. Allen, librarian at annekallen@gmail.com.
For more information about the collection, click on the LIBRARY tab at the top of the page.