COMING ACTIVITIES…
---
---
---
*
*
---
---
–
September 10, 2016 APS Member Meeting:
           …join us from 10am to noon…
Addren Doss

…
"Why This Southern Girl Loves to Paint the West"
If the author, Horace Greely, had said "go west young woman" instead of "go west young man", he would have been talking about me.  It was the landscape paintings of the American west by modern masters that made me want to go there.  I would like to introduce you to some of them, and share my love of that wild untamed landscape and some of the animals who live there.
[Meeting and morning presentation free and open to the public.]
          …workshop from 1pm to 4pm…
Addren Doss… "South Meets West"
.
Using the landscape of Georgia O'Keefe country we will explore how the colors and elements of the New Mexico landscape differ from those of the Blue Ridge, and what they have in common.
We will create two small landscape paintings using an image from the Santa Fe National Forest, and an image from the Pisgah National Forest.
Each painting will begin with the same under tone on the paper and notan/value thumbnail sketches.  Then we will let the colors of the region take over. 
ABOUT ADDREN:
     "Light falling across an object, tree, beloved pet.  The broken color and textures created with pastels and oils.  The whisper of the pastel as it glides across a sanded surface.  The movement, push and pull of the oil paint as it is applied with a knife.  These are the things that excite me and call for me to paint them."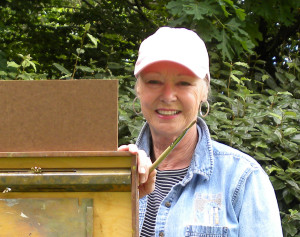 North Carolina artist, Addren Doss, works in oils and pastel, and has been painting professionally for over twenty five years. Her paintings of landscapes and animals are filled with light, and bold strokes of vibrant color.  Addren is a signature member of Women Artists of the West, member of excellence of the Southeastern Pastel Society, associate member of the Pastel Society of America, founding member of the Piedmont Outdoor Painting Society, and member of the Pastel Society of North Carolina.  Her work can be found in private and corporate collections across the country and in Europe.
Addren Doss
www.addrendoss.com
[Click

HERE

for SUPPLIES LIST for Workshop]
ARTISTS TAKING WORKSHOP MUST REGISTER AND PAY IN ADVANCE…AND ARE ENCOURAGED TO REGISTER EARLY TO RESERVE THEIR PLACE.
APS Workshop Fee Refund Policy
Our refund policy states that for workshops sponsored by APS, a refund of the fee deposit is available only within 48 hours of paying the fee.  However, if the fee is paid within the last two days before the workshop date, no refund is available.
 If you prefer to pay by check, please make your check out to "APS," and mail to:
Cathyann Burgess
APS Program Chair
1490 Mountain Meadow
Hendersonville, NC 28739
At the Grace Community Church.  The public and all artists are invited.
Refreshments will be served. When you come to our meetings, bring a friend!
ADDRESS GRACE COMMUNITY CHURCH
Grace Community Church
495 Cardinal Road
Mills River, NC 28759

DIRECTIONS FROM ASHEVILLE AIRPORT & AG CENTER
I-26, Exit for the airport
–Go West past the airport and past the Ag Center on NC 280
–Go approximately 1 ¾ miles west  towards Mill River
–Turn Right on street between the Land Rover dealer and Grace Church which is Cardinal Drive (the church is up on the hill)
–Turn left at the top of the drive into the church parking lot
–Go to the left side of the building to the green awning entrance
–Go into the hall and go right past several doors
–Our meeting room is to the right.
Please contact Cathyann Burgess, Program chair, with any questions about our program. cathyannburgess@gmail.com … 828.595.9518
Please contact Suzy Hart, Membership chair, with any questions about our membership. appalachianpastelsociety@gmail.com … 845.986.3653
---
---
–
October 9 to November 11, 2016:
*
APS 2016 MEMBER SHOW * * Call for Entries!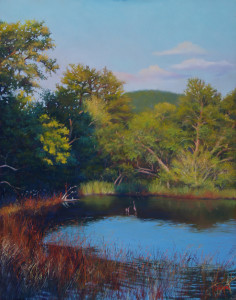 Hendersonville, NC
Deadline is PAST…thank you for your entries…
[Acceptances will be sent by September 5th.]
.
.
Best of Show, 2015 Member Show: "Marsh View, Late Summer"  by Susan Sinyai
*
---
---
APS Library "Blooms" in 2015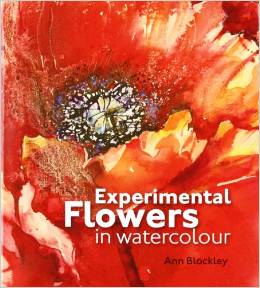 Art books are the doorways to new techniques, color theory, composition, and thoughtful reflection. A recent gift of 103 books and DVDs featuring pastel, watercolor and design were donated to the Appalachian Pastel Society in memory of Mary Ruth Robinson. Her contribution expands the library collection which APS loans to its members during its membership meetings.
An artist and inspiring volunteer, Mary was a longtime member and one of the founding members of the Appalachian Pastel Society. She died on April 29, 2014 after a battle with kidney failure. Mary served on the APS board for many years as newsletter chair and founding librarian. She helped the organization establish its first website. For several years, Mary donated a memorial award to our shows to honor a fellow artist and friend, Ella Maguire. In her will, Mary is leaving $1000 to APS to continue the award to be given with our shows. 
Mary's many gifts have supported, and will continue to support, our growth as artists. 
The expanding library collection is displayed beginning 30 minutes prior to APS membership meetings. A $5 refundable deposit is collected for each book and DVD loaned to members.
For additional information, contact Anne K. Allen, librarian at annekallen@gmail.com.
For more information about the collection, click on the LIBRARY tab at the top of the page.