Enter the 2014 Appalachian Pastel Society National Exhibition! Call is now open, Stan Sperlak Juror.
Enter the 2014 Appalachian Pastel Society National Exhibition!
July 12, 2014 Member Meeting -  featuring Karlota I. Contreras-Koterbay
"The Art of Promoting Art"

Presentation:   10:00 a.m. to noon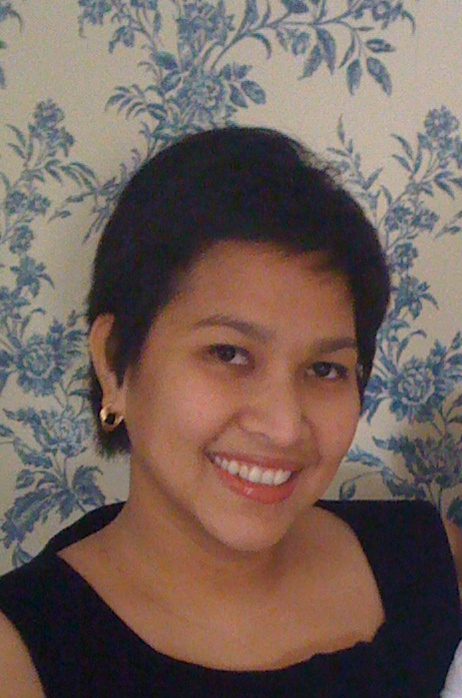 The July meeting of the Appalachian Pastel Society will feature Karlota I. Contreras-Koterbay, Director of Slocumb Galleries at East Tennessee State University, in Johnson City, Tennessee, who will give a presentation on "The Art of Promoting Art."  Using her many years of experience in the field of art management, Ms. Contreras-Koterbay will provide insights on topics critical to arts promotion, such as writing an exhibit proposal and the Dos and Don'ts of working with institutions and other colleagues in the art sector.   Focusing on opportunities in the Appalachian region, she will also discuss academic-based and community galleries as well as employing social media, grants and other collaborative opportunities.
An award-winning sculptor with extensive background in curatorial practice and art management, Karlota I. Contreras-Koterbay is both gallery director and curator for the Slocumb Galleries at ETSU and its satellite venue in Downtown Johnson City, Tipton Gallery.  She has organized numerous exhibits both nationally and abroad, juried regional exhibitions and has lectured in the Philippines, Japan and the United States.  Contreras-Koterbay graduated with honors from the University of the Philippines with a B.A. in anthropology and an M.A. in art history.  She is a member of the American Association of Museums, International Council of Museums and International Association of Aesthetics.
 Refreshments will be served at our NEW VENUE Grace Church.
When you come to our meeting bring a friend!
ADDRESS GRACE COMMUNITY CHURCH
Grace Community Church
495 Cardinal Road
Mills River, NC 28759

DIRECTIONS FROM ASHEVILLE AIRPORT & AG CENTER
I-26, Exit for the airport
–Go West past the airport and past the Ag Center on NC 281
–Go approximately 1 ¾ miles west  towards Mill River
–Turn Right on street between the Land Rover dealer and Grace Church which is Cardinal Drive (the church is up on the hill)
–Turn left at the top of the drive into the church parking lot
–Go to the left side of the building to the green awning entrance
–Go into the hall and go left past several doors
–Our meeting room is on left.
Please contact Janet Hartmann, Program chair, with any questions about our program. tjhartmann@centurylink.net … 423.767.4200
Please contact Kay Gordon, Membership chair, with any questions about our membership. kgordon@main.nc.us … 828.206.0240
NEWS
The Appalachian Pastel Society National Exhibition will be taking place at the Bascom Center for the Visual Arts in Highlands, NC in October 2014. Our juror and workshop instructor is Stan Sperlak. In conjunction with the APS National Exhibition in October, Stan Sperlak will be giving a 3-day workshop at The Bascom in Highlands, NC. (See links below.) The workshop dates are Monday, October 6th through Wednesday, October 8th. Lots more information will be forthcoming but if you think you would like to participate, you should consider the following information.
On March 1, registration will open to non-members and the fees will be to $340 for members and $375 for non-members. Fifteen is the maximum number of participants for the workshop.
To take advantage of this  registration offer, you must call Sara Hill at the Bascom at 828-787-2865. If she is unavailable, leave a message and she will respond to her calls in the order they were received. Sara will take the pertinent information from you, including how you plan to pay the deposit of $152.50.
There is more information (supply list, etc.) on The Bascom website. Look under Education, Adult Programs, and scroll down under the heading for Painting to "Pastel – The Way to the Landscape in Pastel – October – Stan Sperlak."  October in Highlands should be just beautiful – lots of gorgeous paintings just waiting for your efforts!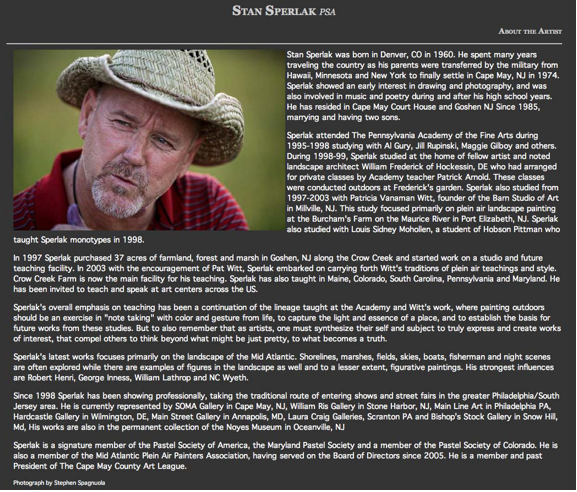 See Stan Sperlak's work at
http://www.stansperlak.com<> /